---
MEMORIAL TO THE VICTIMS OF THE 1871 CHINESE MASSACRE LOS ANGELES
2022
International competition
Entry
The proposed memorial draws its inspiration from commemoration and symbolism. Eighteen-bearing portals stabilize the structural cables and the suspended curvilinear covers in a subtle, harmonious game of weighing, reminding the visitors of the importance of balance, equality, justice, and fairness. The memorial materializes the duty for individuals to take public stands about actions and events that affect individuals or broad masses. By recalling the traditional features of roofs in Chinese sanctuaries, the curved cover evokes an aura of spiritual remembrance by commemorating those who provided shelter to Chinese people fleeing the violence of the massacre.


Filed under:
Memorial,
Pavilion
Team:
Andrea Bulloni, Matteo Arietti, Matteo Ciabattini, Sara Maria Camagni
Visualization:
Visual uax
---
IL FARO
2022
Commission
Private Client
Concept phase
SPACE TRAVELLERS has been asked to rethink a new identity for Il Faro, an interesting architectural artifact from the 1970s, a point of reference for the Crema community. Architecture, landscape, and environmental responsibility come together in the redevelopment of a piece of this area, giving new life to the memory of a symbol. The development of the project is planned in stages, here we show you its last stage.

The complete reactivation of an important piece of the Cremasco landscape with an innovative functional program and an iconic additional volume that overlooks a new large park.

Il Faro is not a gym, it is not a spa or a sports center, or a beauty center. Il Faro is an ethical, holistic, modern vision of conscious well-being. Each component and each activity is designed to focus on people at a 360* level.


Filed under:
Private Building, Sport
Park
Team:
Andrea Bulloni, Matteo Arietti, Matteo Ciabattini, Sara Maria Camagni, Marco Papagni, Chiara Corbani
Visualization:
NUBE Architetture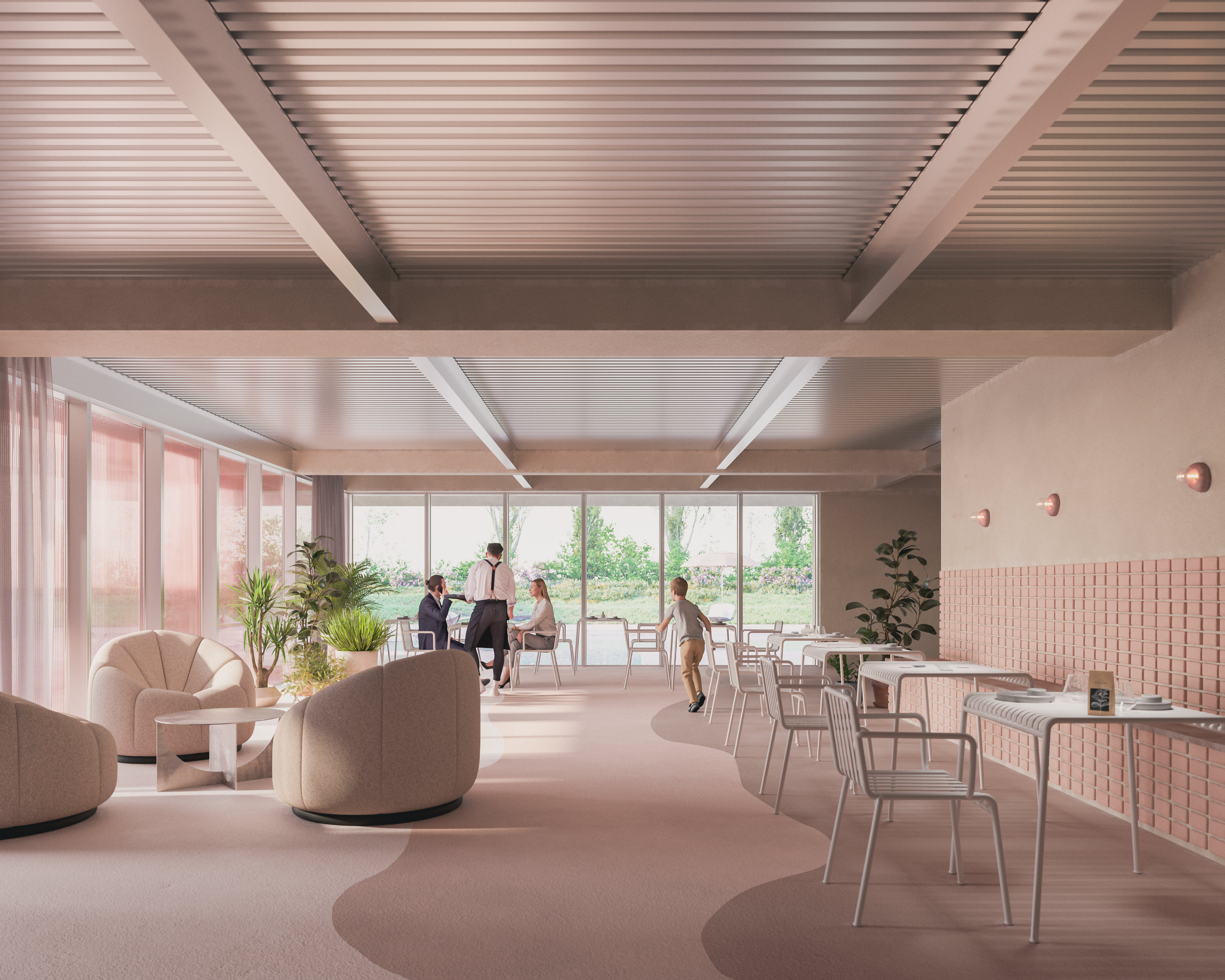 ---
LABORATORI MAXXI
2022
International competition
Entry
The proposed extension expresses a deep interconnection between urban design, landscape dearchitectural design. The main purpose of the intervention matches with the relaunch of the urregeneration process initiated by the original MAXXI: the project fits into the schedule of the videveloped for this, part of Rome, expanding its breath with a whole new focus and setting its dirtowards some of the most important issues, of our time, such as sustainability and innovation.of the system in its, entirety is the new building required by the tender: an architectural obiect ttthe standard-bearer for the entice proposal. The design of this museum extension seeks a strongand ideal relationship with the MAXXI and its surrounding fabric. It is a project that aims, to equirintervention with the tools apt to deal with a changing, world without distortine its, past and deercomplementarity, with an iconic pre existence with which to establish a direct relationship.


Filed under:
Public Building, Landscape
Team:
Andrea Bulloni, Matteo Arietti, Matteo Ciabattini, Sara Maria Camagni, Aurora Fleres
Visualization:
NUBE Architetture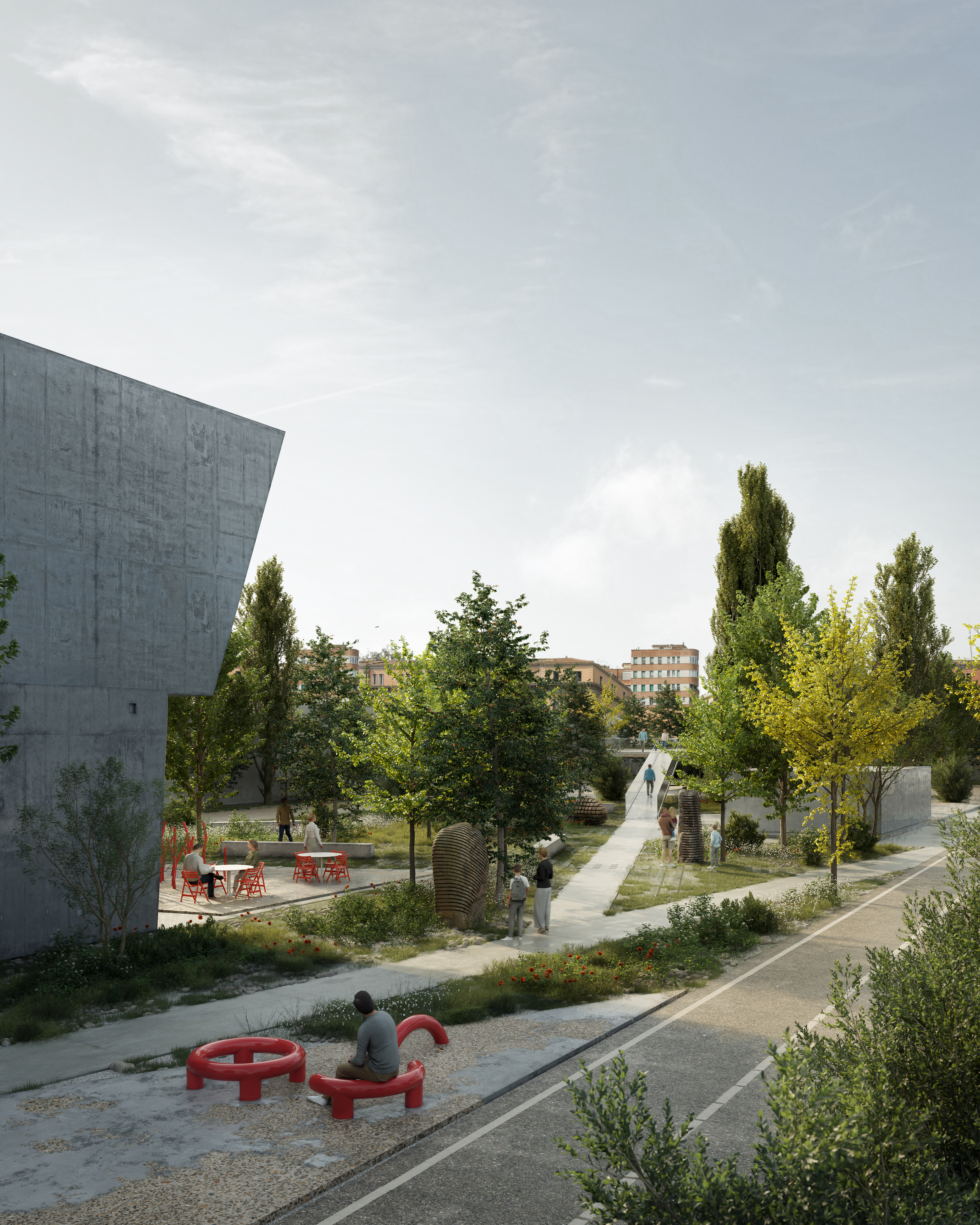 ---
BEYOND Capsule Collection
2021

SPACE X MAATROOM
Milano Fashion Week 2021
Via della moscova 16


+ VIDEO
Beyond was born as a cutting edge piece of fashion design that evolved to become a process-oriented excercise of collactive creativity.

The ever-more likable possibility of a dark future scenario where younger people will be forced to live in, pushed all the professional ivolved into this work to give birth to a capsule collection of two an- drogen jackets that strives to intercept, in their image and their concept of representation, the mood of a generation.

Description:

Black waterproof cotton contrast innovative holographic fabric by Limonta Windproof water-resistant.



Hood at stand collar
Zip closure and velcro fastening 

Zip pockets
Flap pockets 

Zip pocket at back

Velcro fastening cuffs
Filed under:
Fashion
Design
Team:
Andrea Bulloni,Matteo Arietti
Desing Partner:
MAATROOM
Project Partner:
FEM Laboratorio Creativo,Nothing Box, MAJATAJ, Matteo Ciabattini
Visualization:
Tommaso Gorani (Video) Priya Jot Gasparini (Picture)
Models:
Valentina Pegorer (Video+Photo)
Dustin Pills (Video)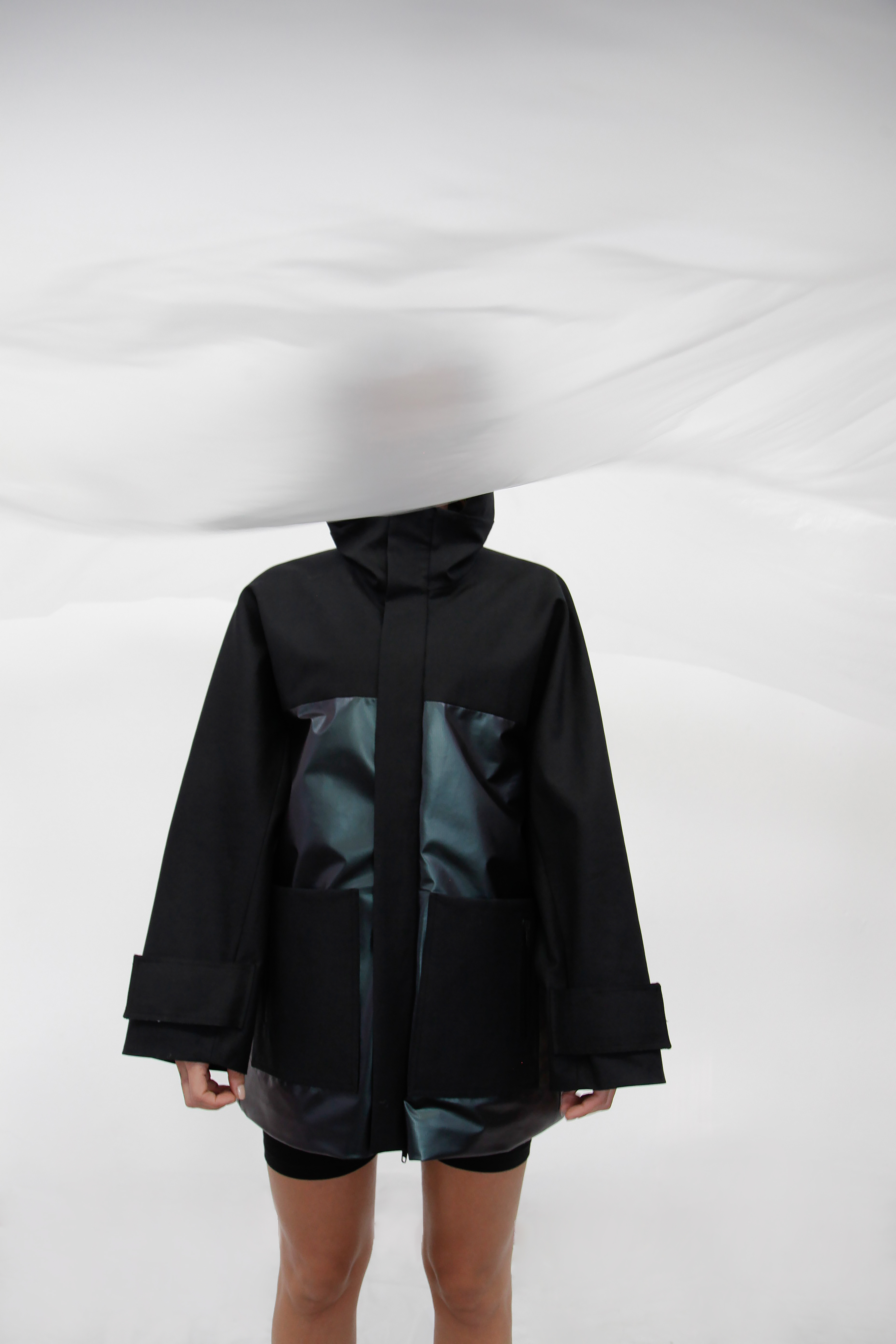 ---
The contemplation of a vineyard inserted in a beautiful landscape generates emotions that are transmitted unconsciouslyWalking through the vineyards is the best way to leave the city's noise and pollution behind. Getting lost in the rows, feeling the intense scents of the earth and grapes, and touching the autumn-colored leaves are some of these emotions.
The linear landscape of the vineyards is as dispersive as the path of a labyrinth.


Filed under:
Pavilion
Team:
Andrea Bulloni,Matteo Arietti, Matteo Ciabattini, Federica Caccia, Alessia Falcini
Visualization:
Visual uax