---
LABORATORI MAXXI
2022
International competition
Entry
The proposed extension expresses a deep interconnection between urban design, landscape dearchitectural design. The main purpose of the intervention matches with the relaunch of the urregeneration process initiated by the original MAXXI: the project fits into the schedule of the videveloped for this, part of Rome, expanding its breath with a whole new focus and setting its dirtowards some of the most important issues, of our time, such as sustainability and innovation.of the system in its, entirety is the new building required by the tender: an architectural obiect ttthe standard-bearer for the entice proposal. The design of this museum extension seeks a strongand ideal relationship with the MAXXI and its surrounding fabric. It is a project that aims, to equirintervention with the tools apt to deal with a changing, world without distortine its, past and deercomplementarity, with an iconic pre existence with which to establish a direct relationship.


Filed under:
Public Building, Landscape
Team:
Andrea Bulloni, Matteo Arietti, Matteo Ciabattini, Sara Maria Camagni, Aurora Fleres
Visualization:
NUBE Architetture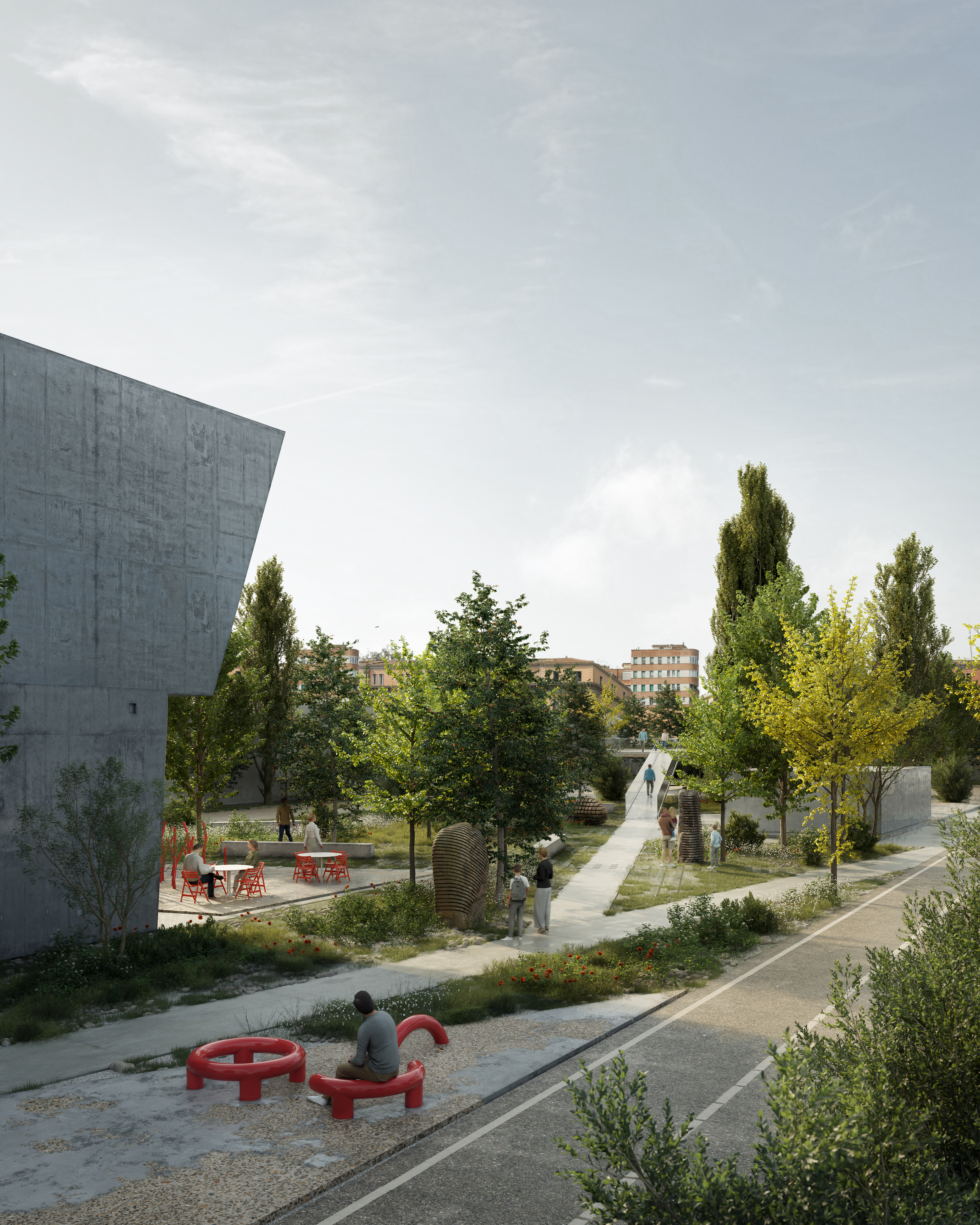 ---
BEYOND Capsule Collection
2021

SPACE X MAATROOM
Milano Fashion Week 2021
Via della moscova 16


+ VIDEO
Beyond was born as a cutting edge piece of fashion design that evolved to become a process-oriented excercise of collactive creativity.

The ever-more likable possibility of a dark future scenario where younger people will be forced to live in, pushed all the professional ivolved into this work to give birth to a capsule collection of two an- drogen jackets that strives to intercept, in their image and their concept of representation, the mood of a generation.

Description:

Black waterproof cotton contrast innovative holographic fabric by Limonta Windproof water-resistant.



Hood at stand collar
Zip closure and velcro fastening 

Zip pockets
Flap pockets 

Zip pocket at back

Velcro fastening cuffs
Filed under:
Fashion
Design
Team:
Andrea Bulloni,Matteo Arietti
Desing Partner:
MAATROOM
Project Partner:
FEM Laboratorio Creativo,Nothing Box, MAJATAJ, Matteo Ciabattini
Visualization:
Tommaso Gorani (Video) Priya Jot Gasparini (Picture)
Models:
Valentina Pegorer (Video+Photo)
Dustin Pills (Video)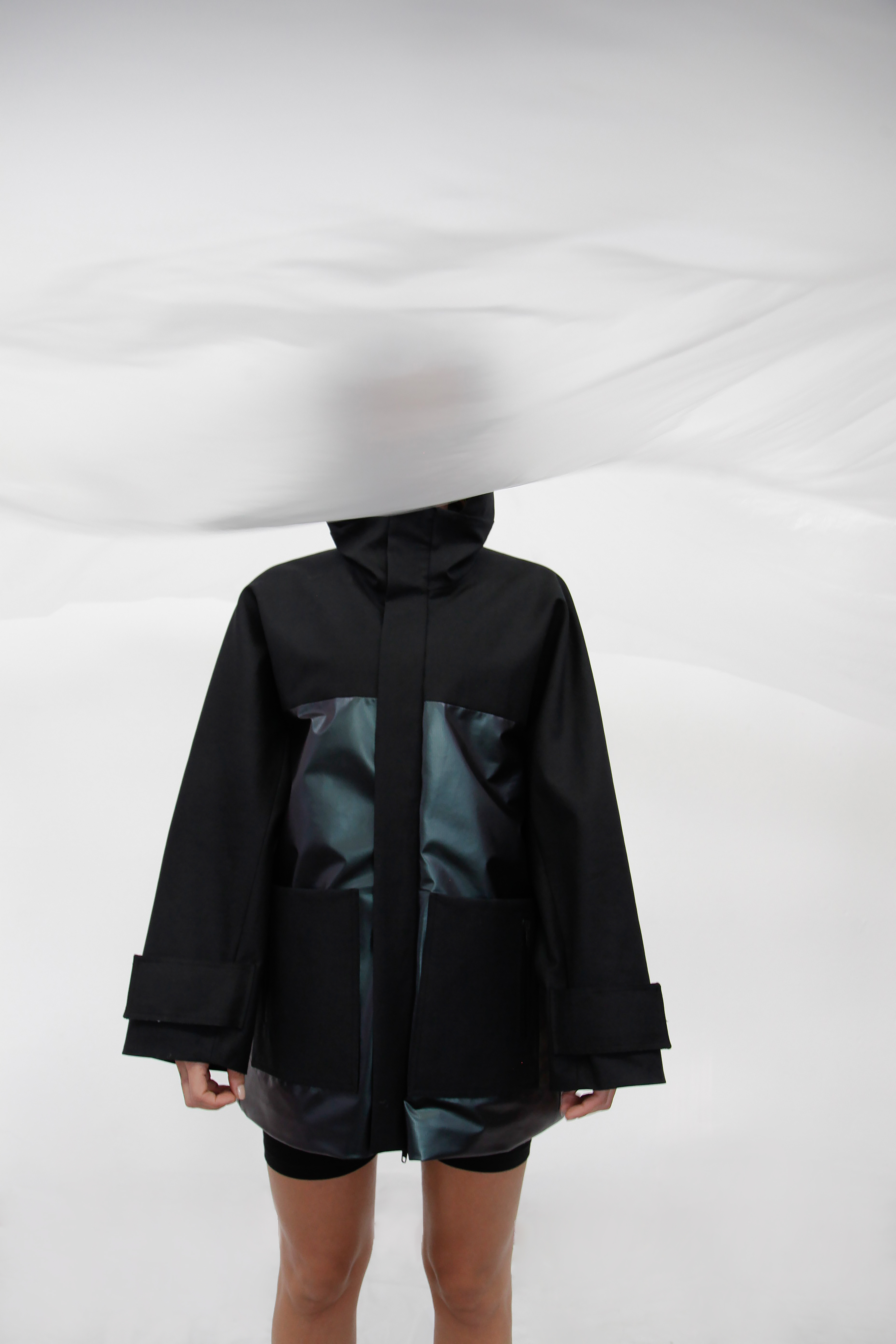 ---
The Eagle
2021
Chicago Pritzker Archives & Memorial Park Center Competition
Entry
"The Eagle" Cold War Veterans Memorial is an iconic landmark that celebrates the women and men who silently fought the behind-the-enemy-lines battles that fostered the United States of America's influence over the free world and prevented an all-out war with the opposing communist block. With a sculptural approach, the project proposes an abstract representation of two giant wings that can ideally trace back to those of the American eagle: a clear symbol of freedom.


Filed under:
Pavilion,
Memorial
Team:
Andrea Bulloni,Matteo Arietti, Marco Papagni
Visualization:
NUBE Architetture
---
SHE
2021
Sara Hildén Art museum competition
Selected Top 15 Design
+ DesignBoom
The new Sara Hildén museum will be the symbol of the Finlayson area rehabilitation process. It stands as a landmark, and it acts as a catalyst for multiple experiences. It's a project that seeks elegance without losing a strong touch: it is massive, it is bold, and it is immediately recognizable. It strives to reach the beauty of the works of art that it will host after its completion while still paying a tribute to the memory of an illuminated and incredible woman.

Filed under:
Museum, Masterplan
,
Landscape
Team:
Matteo Arietti, Andrea Bulloni, Matteo Ciabattini, Alessandra Peracin, Simone Marzorati
Visualization:
NUBE Architetture
---
ARGO & THE GHOST DANCERS
2021
Fly Ranch BURNINGMAN 2021
Entry
+ DesignBoom
Our Project is deeply rooted in history, in the places and tribes that have characterized these places. It tries to inspire new users to get in touch with the old spirits through a new approach, which bases on the innovative and eco-sustainable use of new technologies.

Inspired by the history of the nomadic tribes that once lived in this area, we decided to call our project ARGO & THE GHOSTO DANCERS.
Our proposal is a large-scale intervention strategy that allows the users to freely experience the place through the use of different devices that we designed.

These devices represent a symbolic way to reinterpret three recurring themes in the history of these places: the travel, the nomadic life, the ritual collectivity.

Filed under:
Masterplan
,
Landscape,Device,Installation
Team:
Andrea Bulloni, Matteo Arietti, Matteo Ciabattini, Federica Caccia, Yuri Rocco
Partner:
FEM Laboratorio Creativo
Visualization:
NUBE Architetture